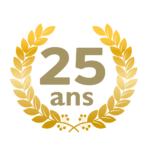 A l'occasion de ces 25 années pendant lesquelles ils ont contribué, par leur confiance et leur fidélité, au développement de la Société MONTEC, nous remercions tous nos clients et nos collaborateurs, en espérant que nous travaillerons ensemble encore de longues années.
Zu Feier dieser schönen 25 Jahren, während denen Sie beigetragen haben die Firma MONTEC zu entwickeln, bedanken wir uns bei allen Kunden und Mitarbeitern, mit der Hoffnung noch vielen Jahren weiter zusammen arbeiten zu können.
Montec, expert since 1997
Created in 1997, Montec is firmly set in the world of high technology and has the same dynamics as large and medium-sized industrial and aeronautical companies.
A large scope of services
Feeling like trusting us?
Our expert and professional team is ready to help you see through your industrial or aeronautical projects. So, if you too want to be part of our projects, contact us.
MONTEC sur BFM Business - Interview du 08/07/2023 avec Régis SIMON directeur commercial de MONTEC